Cooking and Baking Tips to Bake Your Fantasy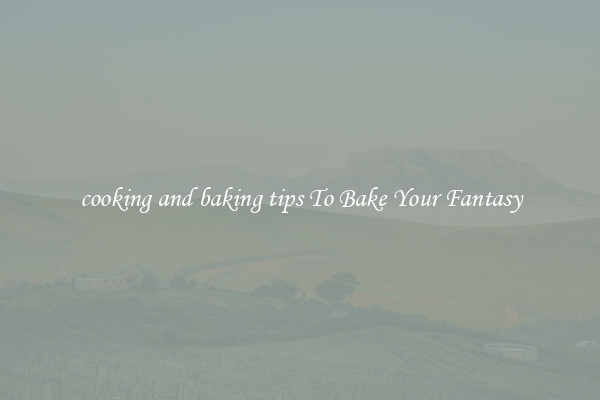 Cooking and baking have always been considered as an art form. It allows individuals to express their creativity and satisfy their taste buds with delicious treats. Whether you are a professional chef or a home cook, these cooking and baking tips will help you elevate your skills and bake your fantasy.
1. Use quality ingredients: The key to a successful bake is using high-quality ingredients. Invest in fresh produce, organic flours, and premium butter to enhance the flavors of your creations. The difference in taste will be remarkable.
2. Preheat your oven: It is essential to preheat your oven to the desired temperature before baking. This ensures a consistent heat distribution throughout the process and avoids under or overcooked results.
3. Read the recipe thoroughly: Before starting your bake, read the recipe from beginning to end. This will help you understand the steps involved, ingredient quantities, and any special instructions. It also allows you to plan your time accordingly.
4. Measure accurately: Baking is a science, and accurate measurements are crucial. Use measuring cups and spoons to ensure precise amounts of ingredients. Follow the recipe's instructions, and avoid estimating or eyeballing measurements.
5. Use room temperature ingredients: Most baking recipes require ingredients such as eggs, butter, and milk to be at room temperature. This is because room temperature ingredients combine more easily and evenly. Plan ahead and take the necessary ingredients out of the fridge in advance.
6. Don't overmix the batter: Overmixing your batter can result in dense and tough treats. To avoid this, mix the batter just until all the ingredients are incorporated. Overmixing can activate gluten in flour, resulting in unwanted texture.
7. Test for doneness: Every oven is different, so baking times may vary. To determine if your treat is done, insert a toothpick into the center. If it comes out clean or with a few moist crumbs, it is ready. If not, continue baking and check again after a few minutes.
8. Allow cooling time: Once your bake is out of the oven, resist the temptation to dig in immediately. Allow it to cool in the pan for a few minutes before transferring it to a wire rack. This cooling process helps the texture and flavors of the treat develop fully.
9. Practice patience: Baking requires patience. Avoid opening the oven door repeatedly to check on your bake as it can disrupt the baking process. Trust the recipe, set a timer, and let it work its magic.
10. Experiment and have fun: Baking is all about creativity and enjoyment. Don't be afraid to experiment with flavors, textures, and decorations. Try new recipes, adapt old ones, and let your imagination run wild. Enjoy the process and savor the journey.
In conclusion, cooking and baking are skills that can be honed with practice and passion. By following these tips, you can elevate your baking game and create treats that go beyond your wildest fantasies. So, put on your apron, turn up the heat, and let the magic begin!